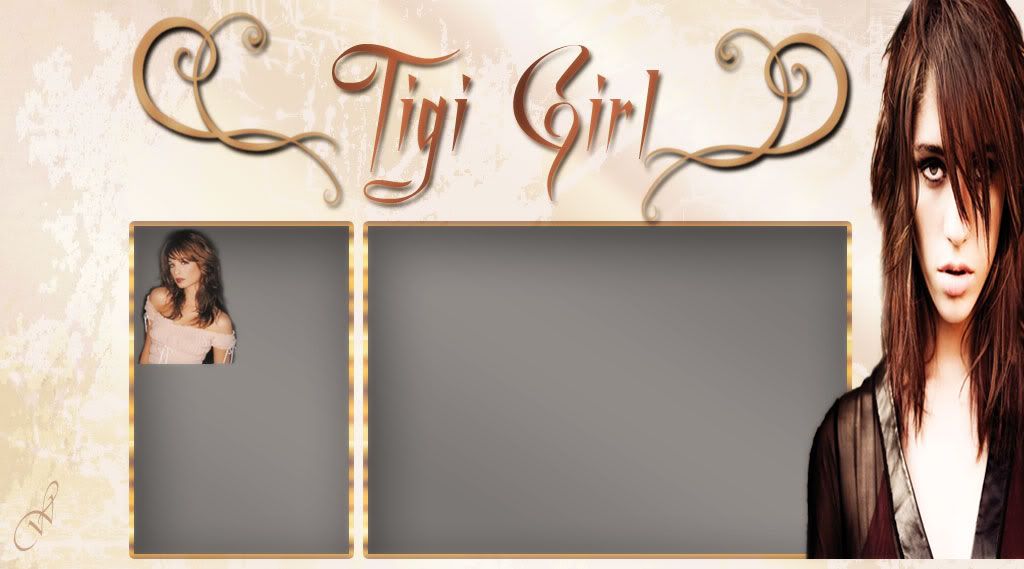 "width="1024" height="569" hspace="0" vspace="40" border="0" align="absmiddle" usemap="#Map" />
The Girl ...
Tigi girl, 21.
Dedicated to Andrew Kalapaca & Steve Tcherkezian

Thursday, December 07, 2006


Today was a salon day, but today was a little bit different, no longer was I going to see Andrew at Allan Parss, I was going to see him at Toni&Guy, the same place where I first met him, and memories of prom were made, but made by Andrew, my hair hero!
So what was it like today? What did I learn? Well read on....
I walk in take my coat off and get to wear one of those robes,but these ones say "Toni&Guy" on them, nice added touch. So its off to the shampoo bowl, the shampoo smells wonderful, and I knew right away from the scent it was Self-Absorbed, see I told you I know TIGI products so well I can tell what each smells like :) Anyways, there is no wonderful back massage there, sad but I can deal without. To me it does not matter about all the fancy little extras, what's important to me is that its Andrew doing my hair,he's the only one I trust to do my hair, and whereever he may go as long as he allows me to I want to follow him. After all let's not forget the guy made my dream come true, I don't think anyone else could have done for me what he did, no one else could have made me a goddess like he did, hey I got to be the star of my prom. Not only that, but on that first day he cut&styled my hair (which was my prom day) I got to experience seeing myself as beautiful for the first time that I can remember, that dream of being beautiful was made a reality, and I am eternally greatful.
So then it time for my haircut......nothing drastically different, although I'm begining to get a desire for it, we decided to do something similar to my last haircut, but throughout the whole of the haircut, blow-dry and flat-iron, was pure conversation! It was a great conversation and I totally had alot of fun, I did tell him how wonderful he is and that I'm happy I get to follow him around, that he takes me as a client with him when he moves around, so that makes me happy, gotta love that!
So then after my haircut I get my blow-dry and of course Andrew blow-drys my hair straight with a brush and blow-dryer first, it really is great for making the hair perfectly straight, also adds a bit of volume to the roots which is a nice touch. Then after that I get my hair flat ironed, really I love the flat iron! My hair = perfectly straight, after that one final part of the haircut, and some texturizing on the ends, which I totally love, I love that because it makes the ends look peicy, slightly worn in and just plain gives it movement to me. Thus, my hair has returned to its state of beauty, with movement, shine, and a shape again (why is it that when hair grows out it loses its beautiful shape?) So my haircut, I have my shorter layers in the front and it gradually gets longer to the back, like a U shape almost. My shorterst layers are at mid neck and my longest are about two inches from the back of my bra strap (so like two inches from the bottom of my shoulder blade) and of course my lovely texturized ends.
I also got some new products and a new regimem, I'm now going to also use Bedhead's Headrush and Afterparty, two wonderful products that Andrew used on my hair today. I love hair care products, and I'm so looking foreward to trying out the regimen once I was my hair.
I'll say this, for a span of 48 hours I had this really keen idea of letting my hair grow out literally another 5-8 inches, which would make it three quarters of the way down my back, like literally to the bottom of my rib cage. I thought I'd really want that, but then I thought I might miss out on the things about my haircut I love...the layers for one. So today I asked Andrew if it would work for me to grow it out, needless to say, "no" was the answer....he said that my hair needed movement and shape...something I wouldn't get with hair that long. Movement and shape for me are important, I mean I don't want just a pile of hair on my head, I want it to have a shape and a style, I want it to move with me, so that when I walk it moves, and to have gorgeous layeres that move freely in the wind (okay I think I got the point across) So my 48hour span of serious thought about it and then a week or so of just thinking what Andrew would say ended today.
What did I learn.....how far courage and passion for what you do can take you. It's not enough to have the talent, talent is important for what you do, but you need to love what you do in order to succeed, you need to pour your heart and soul into what you do, to have passsion for it, especially when you are in the service industry, and more specifically in the beauty industry. In the beauty industry one is responsible for how another person looks and feels about the way he or she looks. Clients but all their trust into that one person's hands, and it is truly amazing what can come out of it when talent and passion/love blend together and create "a work of art"
I learned all the more to want to push myself even more to succeed in everything that I attempt, to feel ever so confident about everything, to strive to be the best. To have courage....
All this from a trip to the salon.....

Remember: It's your hair, who are you going to trust?
Tigi Girl. e-mail me at tigi_girl@hotmail.com Archives |
|9:34 PM|