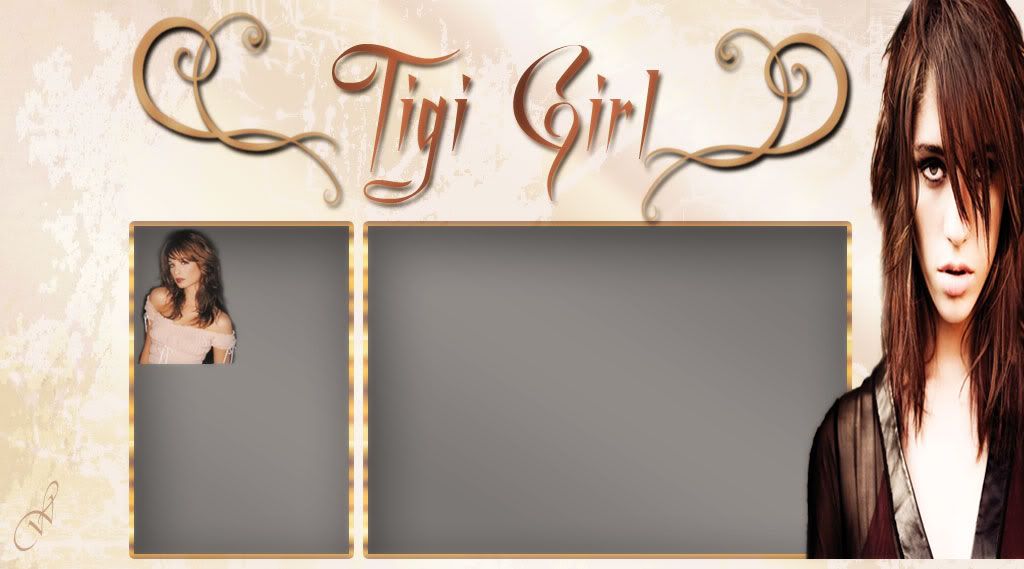 "width="1024" height="569" hspace="0" vspace="40" border="0" align="absmiddle" usemap="#Map" />
The Girl ...
Tigi girl, 21.
Dedicated to Andrew Kalapaca & Steve Tcherkezian

Tuesday, March 29, 2005


ONO Frizz Remover
Okay tonight's post is about a product I found while searching around the net, my the things that I can find! ;)
Okay to let you know ONO stands fron One 'N Only, so the product is really called One 'N Only Frizz Remover. This product is by Jherri Redding, yup one of the guys that created Redken......
Okay now for some help with this I asked one of my hair guru's Steve for some advice...who better to know about the product than Steve, since he is the TR guru!
Okay here is my post to him on
www.verticalsinhair.com


Steve, I just saw this on a website and I have to know your opinion,....this is interesting Here's the add for it:
ONO Frizz Remover is a new salon service that enables you to permanently control frizz, with a gentle non-thio, no ammonia formula. ONO Frizz Remover tames unmanageable hair, reduces static and flyaway, and increases shine, leaving hair easy to comb and full of body. This frizz remover comes in 2 formulas:
Normal Formula for use on: Healthy, virgin hair Hair previously colored, using up to and including 20 volume peroxide Hair previously colored with semi-permanent colors Previously permed hair Tinted Highlighted Formula for use on: Hair with up to 50% highlights Hair colored using high volume peroxide (more than 20 volume) Hair colored with high-lift tint
One application package includes 4 oz (113 grams) Step 1 Formula. 4 fl oz (118 ml) Step 2 Neutralizer, and Application Brush.
Directions:
Important: Read directions carefully before using ONO Frizz Remover. Failure to follow the directions explicitly may cause overprocessing, hair breakage, and/or skin irritation.
Shampoo hair, towel dry thoroughly. Treat hair with a leave-in conditioner or "pre-wrap" to equalize the porosity. Do not saturate the hair with conditioner, since too much conditioner will interfere with the absorption of ONO Frizz Remover. Comb and section hair into "T" partings. Sectioning at the nape of the neck, take 3/4" sections across the head. Apply ONO Frizz Remover Step 1 by squeezing the product from the container onto the hair 1/2 inch from the scalp. Avoiding the root area, start spreading the product with the applicator brush onto the section required. Spread the product over the entire length of hair through ends. Never apply the product to the scalp, since contact with the scalp may cause irritation. Use the enclosed comb to spread the product evenly, gently combing the hair with medium tension to achieve a straight look. Continue up to the top of the head, gently combing each section and making sure there is enough product on the hair at all times. Periodically, comb the hair straight gently to ensure that it is maintained in a straight configuration. Do not press hair flat against the scalp.

Processing time: Process at room temperature and do not use a cap. For naturally frizzy and/or curly frizzy hair: Depending the degree of frizz, process for 10 minutes. If hair is extremely frizzy, process for an additional 5 minutes. Never process the hair more than a total of 15 minutes. Longer processing times may cause overprocessing and/or hair breakage.

Regrowth treatment: Apply only to the new growth area, starting 1/2" from the scalp, and spread product with the application brush. Do not overlap onto previously treated hair. After processing for 5-7 minutes, comb through the reminder of the hair. Process for an additional 5 minutes and neutralize as described below.

Neutralization: After processing has been completed, rinse hair thoroughly for 5-7 minutes, depending on density of hair, keeping hair as straight as possible. Squeeze excess moisture from hair, and towel blot hair really well. Gently comb hair as smooth and straight as possible and apply Step 2 in the exact same manner as Step 1, sectioning the hair at the nape and applying in 3/4" section. Periodically comb through hair while maintaining the hair in a straight configuration. Process for 5 minutes, then rinse out the neutralizer completely for approximately 3-4 minutes. Hair is now ready for styling.

Warnings & Precautions: Please read the directions and precautionary statements carefully before beginning a ONO Frizz Remover application. If you have ever had an allergic reaction to a perm or other cosmetic product, do not use ONO Frizz Remover. If during application, burning, tingling, itching or redness occurs, stop application and rinse hair thoroughly with cool water for 10-15 minutes. If irritation due to accidental contact with skin or eyes should occur and persist, consult a physician immediately. Failure to follow the directions explicitly may cause overprocessing, hair breakage and/or skin irritation.

Okay now I want to comment on this first...
First they do not mention the active chemical ingredient....no thio so it must be some sort of hydroxide (lye, gaudiame) or cysteamine. I don't know so that is the first problem. Remember that if you have had TR or X-tenso or Vertical this product won't be compatible, so don't use them if you have previously TR'd or X-tenso'd or Vertical'd your hair....because thioglycolate (thio) and hydroxide (lye, gaudiame, cysteamine) DO NOT MIX...(remeber thio and hydroxide make Nair!!!!) They do not mention that at all in the instructions!
Now combing the hair, NO NO the hair is in a fragile state why put more force/pressure on it? Medium tension? Ummm no......hair is in a fragile state and is prone to breakage...ah this is reminding me of EasyStraight (oh yes I got something coming again on that!)
No mention of any tests....no strength, porosity, structural test!!! What is up with that? You need to know if your hair can handle the chemical service! Also no mention about bleached hair....bleached hair does not receive TR treatements so I don't think it should receive this, if you want the reason why e-mail me, kinda complex, but to make it short bleached hair or hair with high levels of peroxide (from hair colour over 20 volume) has up to 25% of the cystine bonds which make up the strength of the hair, for the TR/X-tenso service 50% of the bonds are affected and if 25% are gone from bleaching then the hair may not hold...thus breakage.
I don't get how it removes frizz...really I don't.....it seems to be a relaxer service rather than a frizz remover! I mean it tells you to comb the hair and keep it in a straight position so technically you are straightening the hair...ah the words in marketing! Okay just like X-tenso will not remove 100% of the frizz neither will this ONO frizz remover, what they do (X-tenso and ONO Frizz Remover) is to REDUCE the frizz, which don't get me wrong is a really good thing, but the only process I know of to completely remove frizz from the hair (permanently) is to have the TR service done to the hair.
Just a word of note....I found this product while looking through a website that sells products online....this is NOT good! Firstly you should never attempt a chemical straightening service at home! You and no one in your house and no friend has the ability to troubleshoot, to tell if something has gone or is going wrong and what to do to fix it. Sure the instructions make it sound easy, just remember that is what people who tried EasyStraight thought and many have complained about breakage and losing their hair because of that Sh*t product......honestly worst product in the world (in my opinion) if you want you can read my post on EasyStraight, it contained my opinon of it, truths about hair, the structure of hair and how it compares with EasyStraight and what EasyStraight does wrong (okay I think just about everything firstly with putting it on the market....not in Canada thankfully....) It also has reviews written by actual users of the product and a small newspaper article. Really great post if you want to read it, it is titled "EasyStraight = Easy Disaster"

Now for Steve's say on the product (after reading what I had wrote to complain about it)
"ONO! At first, I was confused. This product was initially called "One N' Only" by Jheri Redding and obviously now also known as "ONO". They have I think 3 different formulas - Frizz Remover, Curl Reducer (Regular and Resistant). This product has been in the market for a very long time and they are useless - Not good.
Steve "
www.verticalsinhair.com
copyright verticalsinhair and Steve Tcherkezian 2005. - There you go even a great TR guru thinks it's not good!
Tigi Girl. e-mail me at tigi_girl@hotmail.com Archives |
|11:15 PM|