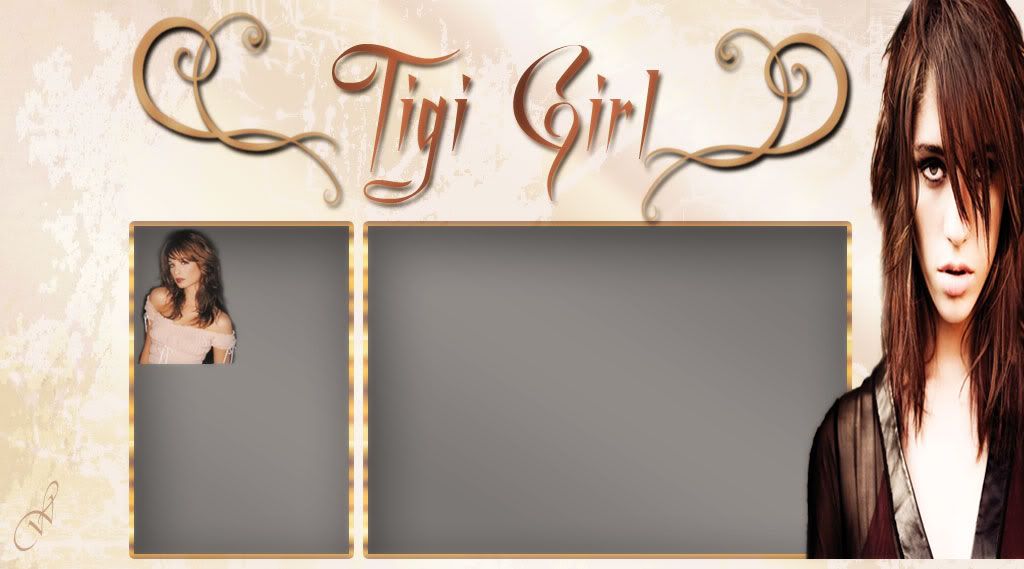 "width="1024" height="569" hspace="0" vspace="40" border="0" align="absmiddle" usemap="#Map" />
The Girl ...
Tigi girl, 21.
Dedicated to Andrew Kalapaca & Steve Tcherkezian

Monday, March 07, 2005


Question: I'm going to one of those salons that have stylists at different levels, like junior stylists and creative directors. Which one is best? Which one should I choose? What is with the level?

Answer: Well let me begin by telling you about the whole levels thing.....Some salons have stylists on levels and those levels are determined by the stylists level of experience. Now here's something that I should note, most salons take in their new stylists as apprentices or assistants first. So despite the fact they may have gone to school some salons also train them in the salon and they tend to start off by doing the shampoo's and doing some drying and styling. Although they are still practicing and perfecting their skills on people, many times family and friends and maybe some clients. Okay so back to the levels once they have finished the salon training (if they have one) they then are junior stylists or new talent or whatever title they receive and they gradually move up the chain until they get to the highest level...many salons have different names for the highest level and different salons have a different amount of levels. Now I'm assuming that you will be a new client....so since you will be you are asking which level of stylist to choose. Let me address your question "which is best?" first
Junior stylist, senior stylist, level II, artistic director....yikes that's alot of titles, so you wonder which one is best...here is my answer...they are all wonderful! They have all gone through a vast amount of training and education to get to where they are. I must say that alot of people think that if they go to the stylist with the highest level that they will get the best possible cut....not always true. The junior stylists can be just as great. I totally disagree with people saying that they should choose a junior for a trim or a simple cut and a senior for a layered or more textured cut. That's being silly...common now....junior stylists can do this too, it's not like they are getting to cut hair for the first time in their lives! The junior stylist have gone through school, and much vigorous training to get out onto the "floor" I don't know if any of you have seen that show on WTN (women's tv network) well it was on it was called "Blow- Out" I loved that show! Anyways this was basically the story of Johnathan (some stylist and owner) who opens a new salon in a city which has slipped my mind...anyways, there is this girl whom he trains to cut hair and he is a very tough teacher (Johnathan) anyways she goes through alot, she fails her first cutting test! Then after some time, well towards the end of the season she has to do another cutting test and she passes...to illustrate the point, working in these prominent salons takes skill and honestly I don't think that they would just put anyone on the floor, especially if they are going to charge good money for a cut. My opinion go with a radom stylist, have the secretary book you in at a time that is convient for you and with any available stylist....for a CONSULTATION...what did you think I was just going to say go for a cut? haha you should know me better if you have been reading my posts, for those that have not I am very keen on people having consultations prior to letting a new stylist (that means any stylist at any level) cut your hair. Consultation allows the client to get an idea of the stylists personality and style....trust me it's important. If you are unsure about your cut/colour etc. you can ask your potential stylist and then see what they say. Now I would recommend getting a consultation on one day and then go home think about it and then decide if you want this person as your stylist if so give the salon a call and book your appointment....if not keep searching, you'll find one...if I did you will too! Okay now....here's my little story to add...what did you think my story was not going to be in here? You know I can't help adding my own stuff to this.....ah I remember searching for a stylist....I did so much research on salons, too bad I could not seem to research a particular stylist, well first of all it would be hard to and secondly many salons don't list there entire staff on a web site, especially if it's a salon with locations all over the world! When I first met my stylist he was a junior stylist, and this was not long ago...and I trusted him to do my hair for prom and it looked amazing...okay it was hot!!! It's still hot now..and I'm so loving this cut....this is soo coooooool! It was not a simple haircut at all, it had layers and he did such a great job...so to those of you who are intimidated by the junior stylists, I just gave you a reason not to be.......I also love the fact that my stylist is young, close to my age....I'm 19 and my stylist is not that much older than me, so for me it's like well since he's young too, I think and feel that he understands the trends so well and is able to incorporate my length rule (it has to be longer than my shoulders...the longest piece that is) and then take something trendy and take his ideas of what he think will work and make a cut totally for me that works.....So it's really cool. Even if you go to your stylist with a picture your haircut should not be a carbon copy but it should be tailored to you...so take the picture and make it work on you, make it fit YOUR features and stuff...exactly what mine does...although now I'm loving the idea of letting him chose my cuts for me...I let him do it the last time I went and I'm in love with the cut...(it's the haircut I have now) Okay now I think I've said enough about me...now to choose a stylist it's up to you...I say choose a random stylist what I mean is let the receptionist book you in with someone available at the time you request....all stylists are different and yet all go through so much training. They are all trained well...it's the personality and the passion they put into their work that makes them different....a senior stylist can do a cut well but without passion it's just a haircut, nothing more. But a senior stylist who puts passion into their work can go further. So junior or senior it's the passion to the art, the deidcation that makes the difference not the amount of years behind the chair.. A haircut should be a work of art, so said my stylist and I agree.


Being in the beauty industry is a never ending educational journey....from the youngest memeber to the one whose been doing it since they can remember they are all constantly learning new skills and techniques.....The learning never ends, regardless of how long you have been working....
Tigi Girl. e-mail me at tigi_girl@hotmail.com Archives |
|9:31 PM|