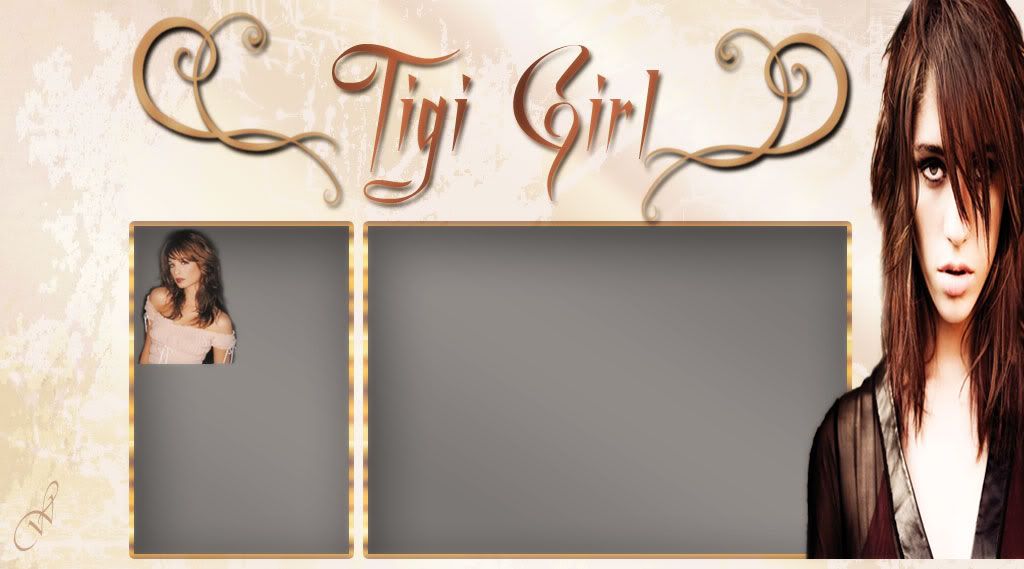 "width="1024" height="569" hspace="0" vspace="40" border="0" align="absmiddle" usemap="#Map" />
The Girl ...
Tigi girl, 21.
Dedicated to Andrew Kalapaca & Steve Tcherkezian

Sunday, January 16, 2005


Hair Colour - Salon Colour vs. At Home Colour

Now the post that you have been waiting for has come, yes the controversial post about salon colour vs. at home colour. Oh by the way in case you think I am spelling colour wrong, I'm not I'm Canadian and here in Canada we spell colour with a u, I know it's weird but bear with me.
Okay so now here is the post...

Hair colour why do we do it? To change the colour of our hair, we do not like the colour we have and we want a change. For some of us we want to enhance our colour, for others we want a change. For the brave, some want to stand out with those vibrant hair colours out there.
But why at home? Some people think it's a fun thing to try and others well they want to save money. But in the end are you just reuining your hair with those at home colour jobs? You want to know and I will try to explain.
I know want to ask how easy is it really to colour your hair at home and get those professional results without the colour technician?
Does it really save you money?
Let's start talking!
First of all let's discuss what the home colour boxes which I will refer to as "box colour" can do. Well they have come up with single colours and recently highlights. These are kits which you can buy at the drug store and use at home. They all claim that it is easy....well how is it easy? It may be hard to apply the colour all over your head without some sort of help, you may miss spots, it's obvious that you cannot see the back of your own head, so maybe some help would be good. Well now with the highlights...well how easy is it to keep your hand steady to keep a straight line all the way down your head with those little combs or wands that these highlighting kits have? I mean the longer the hair the more difficult it becomes for you to keep that straight line all the way down your head. Another factor, umm what about the back of your head? How are you going to see? What about longer hair, will the colour on the wand not run out before you reach the end...if so then what how do you go back and continue? What about evenness? If the most product is on the wand at the begining then will the top of your head get the most colour and the further down you go the less colour the hair gets right? Just think about it. How even is it really going to be. These highlighting kits are getting to be harder than the companies say they are aren't they. Apparently Colour Expert has an infomercial video teaching people how to do it at home? Infomercial...umm wasn't it supposed to be easy? Let's not even get to the part about not getting the colour you want and mishaps...that's just another factor of box colour.
Now let's get a bit more technical...bear with me, I promise I will try really hard to help you understand, if you get lost, don't forget I have an e-mail and am happy to try to help you out! My e-mail will appear at the end of the post.... no need to be shy it's okay we are all learning!

So next, there is levels of peroxide in the products, in box colour (home colour) the level of peroxide is higher than it sometimes needs to be, at the salon the colour technician can mix a formula that has the right amount of peroxide for the job without adding unnecessary extra peroxide. The box colour has only one strength or peroxide because it needs to be able to work for everyone. They contain the highest strength peroxide available to use for that colour. Why? To make surethat nearly everyone achieves the result that they anticipate (if it comes out right) This is the reason why some people get the results that they hoped for and others don't....it's about the peroxide levels, for some its too high and they damage the hair and for others it is the right amount so they get the colour they hoped for (this is assuming that you are chosing a colour that is suited for your hair...a shade exactly or a few off from your own) Too much peroxide can acutally be damaging for the hair, this as all other chemicals that come in contact with the hair can cause damage and too much of anything can be bad for you....so for some people the peroxide levels in the box colours are too high and they end up with some damage, which most times includes split ends and most commonly dry hair that looks "fried" or "tired"

Now think about it, you go into a salon for your colour...your colour technician can customize everything for you! Everything from your colour to the developer and the peroxide levels! Therefore the colour technician can make sure that you get the colour you desire with the proper peroxide level, just the right amount, with minimal damage to the hair.

Now besides being able to customize the colour and peroxide level your colour technician is also able to see the back of your head! That means that he or she can make sure that all of your hair is being coloured and they can create perfect, beautiful straight highlights or streaks where ever you would like! Your colour technician can also give you dimensional colour (using more than one colour) and have the dimensional colour blend in beautifully. That is not possible to do to yourself at home. Colour technicians are trained in the art of hair colour and the sky is the limit in terms of their creativity!

Now let's talk about the makers of these products, I am in no way saying anything negative against them, I am simply expressing my opinion and views. Now do colour companies really care about your results at home? Well my opinion is No. Why? Because they know that it is difficult for you to get salon results at home (let's all be honest can we ever style out hair the same way our stylist did when we went to get our hair done? The honest answer is no) It's not only that people at home cannot see the back of their heads, many do not have a steady hand to do perfect streaks/highlights. How can the hair colour come out even with those combs used to highlight the hair if the bulk of the colour will end up on the top with little on the ends if any does get to the ends at all...that is the case for long hair, the product in the wand may run out before one gets to the end? Want to know some more true facts? Sure you do....On these boxes the companies leave out some important information such as colour does not lift colour!!! Meaning you cannot buy a box of colour that is red and expect to have that result if your hair is pitch black! The red will not lift the black. Yes the red dye molecules will be deposited but they will not be visible over the black. In order to achieve the red you will need some colour lifted, and for some people to achieve the colour result they want they need to bleach their hair. In the example I gave the person would need to have their hair bleached to get the red colour they are looking for. Same sort of thing applies for people with light hair wanting to go dark, sometimes these people will need what is called toners or fillers to get the colour they hope to achieve...oh by the way those procedures, bleaching, filling and toning are only done in salons. They don't sell those anywhere a consumer can find. I hope I have not lost you too much, again if you are lost e-mail me.

People who have coloured at home can have what I like to call "colour mishaps" that is where the hair turned out some totally unexpected colour...like oh greenish blonde or something of the sort... These colour mishaps occur because the person at home did not know something crucial and well the disaster happended. What happens when your hair turns orange instead of the colour you desired? First the colour box goes flying out the window....(well for some people) and then you call a colour technician and get the first appointment available. Some people have actually bought another box of colour thinking that they can fix the disaster at home...well let me tell you from what I have read and heard the disaster goes from worse to worse! The more work required to fix the colour the more money a colour technician gets....so now is it really worth it all? So that $10 box of colour that you tried and messed up cost you more than if you would have had to pay if you got it done in the salon....Let's say the salon charges $60 for colour and you paid $10 for a box of colour that you tried and messed up. So it will now cost you over $100 to get the colour that you messed up at home fixed (all corrective colour technicians/colour technicians start their colour correction services at at leat $100 and can go up as high as $300+ so I have been told by people in the businness) So in essence that $10 box of colour cost you $10 plus $100+ to fix the mishap...is it worth it? Is it easy? (considering these disaster storis I've seen hands down NO!)In my opinion no it's not!

So to start suming things up, it is much better to go get your hair coloured at a salon, this way you are getting professional results. You are not paying them to just apply colour to your hair, you are paying for their expertise, their ability and knowledge in working with hair colour and the chemicals that make up the colour to give you the results you long for. The colour technician can analyze your hair and make sure that your hair is not damaged and healthy enough to withstand the procedure. The colour technician can ensure that you get the results that you are looking for, and keep the damage minimal by mixing the correct formula with the right peroxide level. They can use toners, fillers, and bleach to achieve the colour you are looking for. They can creat dimensional colour that blends in. If you do worry about a colour technician not getting the colour right according to you then remember that they wil fix it free of charge whereas at home if the colour doesn't turn out how you expected you will have to either live with it or pay a colour technician to fix it. So if you colour your hair it will save you alot more money in the long run to have it done professionally, not only that but it will save you heartache or emabarassing moment from home colour gone wrong. Plus why not treat yourself to the salon every so often? It's a wonderful treat for anyone to have any service done in a salon, you owe it to yourself to have that colout you always dreamed of and you deserved to be pampered! You are worth it! Some pampering is good for you and you will just love the idea of knowing that when you leave that salon you will look great! There is no telling just how far your colour technician's creativity can go, with the knowledge in hand their creativity is limitless, remember they studied very much and studied hard to learn all these wonderful things about colour to help you the client look and feel your best. You owe it to yourself to pamper yourself with a professional hair colour. Now there is no substitute for finding a great colour technician, so go for a consultation start asking questions and start dreaming of that perfect colour, because soon enough you will find that colour technician that you like! For help on how to find a colour technician see my post "How to find a stylist/colour technician" you will have to scroll all the way down (using the pink arrows) the post will be titled " how to find a stylist/colour technician"

I hope that this has helped you understand hair colour a bit more, so you see salon colour definatly wins hands down! Take care and have a great hair day...I'm having a great hair day thanks to Bedhead (TIGI) products, seriously these hair care products rock...my hair is really soft and shiny tonight...way to go moisture maniac and of course Control Freak (for the frizz control) By the way I think I should let you know that I am not a colour technician, but I have done much research about hair colour and what people's opinions are on it. As always the opinions expressed in this blog are mine, you are free to have your own opinions on the subject.

Got questions or are you confused about anything...e-mail me!
Tigi Girl. e-mail me at tigi_girl@hotmail.com Archives |
|9:30 PM|